Your Hidden Power Is Water
You have a rather calm soul, but when tempted
will get pissed off at those who bug you. You
do whatever you can in your powers to help
those of your allies and have a okay taste for
human kind, but you find them rather annoying
on occasions.
Gem Stone:
Saphire,
Eye Color:
Ice
Blue,
Hair Color:
Dark Blue that's long
that goes to your waist.
Quote:
If you wait for me
Then I'll come for you. Although I've travelled
far, I always hold a place for you
In my heart. If you think of me, If you miss me
once in a while, Then I'll return to you. I'll
return and fill that space in your heart.
What Is Your True Hidden Power? .::Beautiful Anime Pics::.
Well , Its kinda nice . I love the rain and i love the open seas ....
brought to you by Quizilla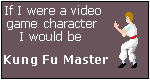 I am Kung Fu Master.


I like to be in control of myself. I dislike crowds, especially crowds containing people trying to kill me. Even though I always win, I prefer to avoid fights if possible. What Video Game Character Are You?


Ok Junta ... I just like taking these tests ... Its kinda fun ... but i wont push it too far . :)

PS : Found the video game thingy on 'The Solitary Reaper's ' blog . Somehow , solitary reaper sounds scary rather than solitary .....